【Introduction】
In the past decade, philanthropy in China has undergone a change that makes it increasingly transparent. As the initiator and one of the most important actors in this change, CFC was established at a time when philanthropy has a credibility crisis; it makes innovation amid poor self-discipline. Through a series of innovative actions, CFC has improved foundation transparency and self-discipline and further influences greater transparency in philanthropy as a whole.
Sitting in the office, Tao Ze gets into the website of China Foundation Center (CFC) and browses the latest data on foundations. It shows that "by the end of January 16, 2018, there are 6,386 foundations nationwide".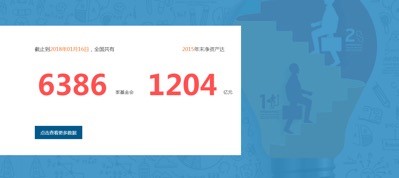 (According to data on CFC, by the end of January 16, 2018, there are 6,386 foundations nationwide.)
As more and more foundations are established, more and more data are published, which are captured real-time by CFC and available on its website. "So far, the rate of information disclosure of Chinese foundations stays at above 90%; but when CFC was just established, everything was very difficult," the incumbent CFC President says.
Establishment: to make philanthropy more transparent
On the early morning of December 9, 2009, Xu Yongguang, the-then Vice Executive Director of Narada Foundation called Gu Xiaojin (the-then Vice Executive Director of China Youth Development Foundation), Shang Yusheng (the-then Director-General of Wu Zuoren International Foundation for Fine Arts and founding Executive Director of Beijing Enjiu Center) and Tao Ze (the-then Vice President of Non-Profit Partners Foundation) and two other founding members to the Meeting Room of Narada Foundation to discuss the establishment of CFC. "We built CFC out of three points of consideration: first, philanthropic information disclosure starts from foundations; second, foundation self-discipline starts from information disclosure; third, CFC starts as a platform of information disclosure," Xu Yongguang said. His clear strategic insight is a result of many years' exploration into philanthropic transparency.
As early as the 1990s, leading philanthropic players with a sense of social responsibility and development concern in China began to explore the mechanism of self-discipline and transparency, Xu Yongguang was one of them. But due to restrictions of policy, social conditions and technology, their exploration only began to make a substantive move ahead on the very morning of late 2009: they decided to take actions to advance philanthropic transparency and self-discipline.
In fact, the cry for philanthropic information disclosure has been long. When China was devastated by Wenchuan earthquake on May 12, 2008, donations totaling 76.214 billion Yuan were raised for the stricken area within half a year following the disaster, including 65.2 billion Yuan in fund, which exceeded the total relief donations between 1996 and 2007 in the whole country and set a new record in China's history of donation. In the same year, Professor Deng Guosheng from the School of Public Administration, Tsinghua University released a research report on the use of donations for Wenchuan earthquake. It was found that by November 2008, of the 67.25 billion Yuan, "80% may have been transferred to government's fiscal accounts". Though the government promised to build a platform publishing the use of the donation, according to information available in public, such a platform does not exist. In addition, survey shows that one year after the earthquake only less than 5% of the donors were clear about the use of their donation.
While Professor Deng's report raised grave concern for the use of donation in China, "Guo Meimei Scandal" in 2011 dealt another heavy blow to China's philanthropy. The girl flaunting her wealth online claimed to be the "general manager of China Red Cross Chamber of Commerce". Though investigation showed that Guo, in fact, had nothing to do with Red Cross, the scandal sparked widespread public outrage and dented the credibility of China's philanthropy.
In the summer of 2010, led by Xu Yongguang and joined by 35 famous foundations in China, China Foundation Center (CFC) was officially established.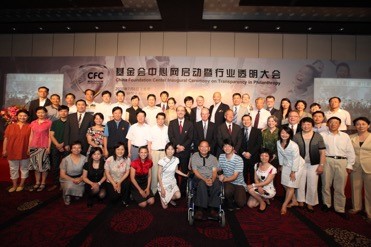 (Group picture at the Launching Ceremony of CFC in 2010.)
Xu said that CFC was "born out of need" as "China has fine foundations with a sense of mission with the belief that foundations and nonprofits can do better by becoming more transparent to attract donation resources". On the launching ceremony of CFC, Ma Mingjie, the-then Director of Social Poll of China Youth Daily published the result of "donation transparency poll" of the year showing that "31.9% of the polled believed that the public was unsatisfied or very unsatisfied with the current situation of foundation and philanthropy transparency".
As a third-party platform of information disclosure, CFC mainly publishes such information as the number of registered foundations in China, organization profile, finance, programs and latest news. Such information is sourced from the official foundation websites and government authorities at all levels and the data are captured from foundation annual reports, audit reports, program reports and news, etc. In fact, though CFC only focuses on "foundation transparency", it represents the public expectation for stronger self-discipline in nonprofits in general.
"Greater foundation transparency and healthy development not only bring progress to foundations, but also advance transparency of all nonprofits and even the whole society," Xu Yongguang said on the summit during the launching ceremony of CFC.
Data collection: collection itself is not enough
To regulate organization and activities of foundations, Chinese government promulgated the Regulations on Administration of Foundations in 2004, which provides that foundations should "submit each year before March 31 the annual work report of the last year to the authority where they are registered and administered and receive annual check" on "finance and accounting reports, CPA audit reports and the situation of fund-raising, donation-receiving, grant-making and changes in personnel and organization". However, as accountability mechanism is absent, many foundations do not attach importance to information disclosure and reports submission. The regulation is virtually non-existent.
CFC starts from data collection. In fact, after the meeting on the early morning of late 2009, Xu Yongguang began to find foundations willing to join CFC; other founding members also began to research, recruit and carry out wide-range information capturing via Internet and paper media. By July 8, 2010 when CFC was formally launched, among China's over 1,800 foundations, only 16% released annual work report.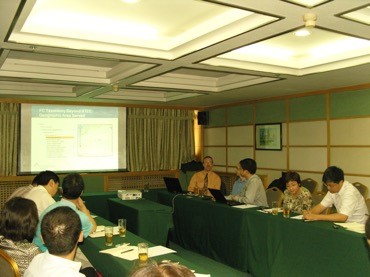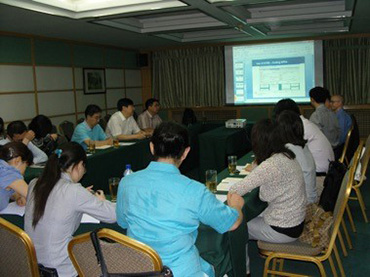 (CFC Systematics Workshop in 2011.)
By July 8, 2010 when CFC was formally launched, among China's over 1,800 foundations, only 16% released annual work report.
To gain more information and raise the rate of disclosure, the newly established CFC went through a tough journey. Tao Ze still remembered those early days: "We got in touch with foundations, authorities administering civil organizations. We called, sent E-mails and even wrote to tell them what we wanted to do and that we yearned for their support. Luckily, our gained the support of some foundations and the government and had the data eventually." Through consistent communication, by the end of 2010, CFC raised the rate of disclosure from 16% to 30%. "But that's when we touched the ceiling. We couldn't have a higher percentage. First, we were just built and far from influential. Many foundations knew nothing about us. Second, some foundations chose to wait and see. That was a very difficult time," Tao Ze said.
To break the stalemate, CFC decided to use media to enhance the understanding of transparency and the necessity and importance of information disclosure of nonprofits and the public. In late 2010 when the Measures for the Information Disclosure of Foundations celebrated its five-year anniversary, CFC launched the activity of "Lighting China to Spread Love". It was recorded by China Central Television (CCTV) as documentary series and was broadcast during prime time.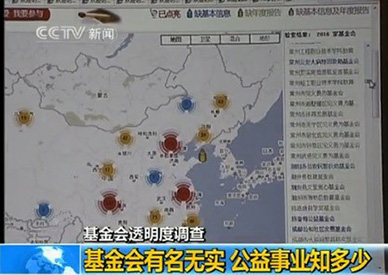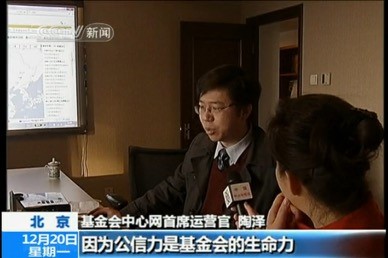 (CFC launched the activity of "Lighting China to Spread Love" and released "China Foundation Map". Tao Ze said in an interview that credibility is the life of foundation and that transparency is the basis of credibility in 2010.)
During the activity, the website of CFC showed a "China Foundation Map". By choosing a specific city, one could find out the location of foundations in the city and their level of information disclosure, which was categorized into four ranks: red, blue, green and grey with red color representing the highest level of information disclosure and grey color representing the lack of basic information and annual reports. Such simple visual display of information intrigued online participants and was widely noted by foundations.
Meanwhile, the News Channel of CCTV broadcast the activity in 3 episodes totaling 28 minutes during prime time by the end of December 2010 after making records, visits and interviews. Thanks to the political authoritativeness and social influence of CCTV and combined with the activity on CFC website, more and more people realized the importance of foundation transparency. By early 2011, CFC witnessed a significant rise in the volume of data collected. The rate of disclosure rose from 30% to 50%; by the end of 2011, it rose to 85%.
Tao Ze said, "We benefit a lot from media. During media interviews, we find that many foundations do not choose to ignore the laws and rules. In fact, it's just that they didn't know about the laws and rules. In addition, we found that the information in many foundations also have problems in information management. So the intervention of media not only helps improve information disclosure, but spreads knowledge about rules and regulations and enhances the awareness of greater philanthropic transparency."
Setting standard: FTI
Apparently, information disclosure is not equal to transparency. When the percentage of disclosure was rising, CFC began to focus on the quality of information. Tao Ze recalled, "At that time the number of foundations nationwide increased quickly, but the quality of the data disclosed was yet to improve. Many foundations didn't pay due attention when writing annual reports. What's more, different foundations choose their own channel of disclosure, which is not conducive to data collection for us and information search for the public."
As the public opinions around Guo Meimei Scandal in 2011 damaged China's philanthropic credibility, many foundations were pressured to seek remedies. "The pressure on philanthropy as a whole was genuine in recent two years. That's the change brought by the Internet. Media and public accountability push foundations to regain public credibility and find a way out by self-reform. The more the public know, the more we're held accountable. This will require us to be more prudent and responsible in using resources," Gu Xiaojin, the-then Vice Executive Director of China Youth Development Foundation said.
To improve the quality of information, many questions needed to be answered: what the public wanted to know, what sort of information was important, how to make the information disclosed more comprehensible and accessible, etc. To solve these problems, CFC worked together with the Anti-Corruption and Governance Research Center of Tsinghua University to develop a new index measuring philanthropic transparency that included such indicators as information mandated to disclose, information people concerned about, channels where people access information and the importance of information. On August 29, 2012 when CFC celebrated its two-year anniversary, CFC introduced Foundation Transparency Index (FTI). This is a foundation transparency evaluation system in the form of ranking that encompasses parameters of mandatory information disclosure, weight, channels of information disclosure and information comprehensiveness.
FTI effectively factors in the need of philanthropy and the public as it includes the information mandated to be disclosed by the government (Ti), as well as the quality of information (Comprehensiveness, Ci), importance of different kinds of information (weight, Wi) and accessibility of information (channels of disclosure, Si). The transparency score of a certain foundation (FTIn) is calculated by multiplying the four parameters. The formula is:
FTIn=∑(Ti×Wi×Si×Ci)
Through complicated calculation, FTI results in a simple and telling score. Ranked scores, the availability or absence of the scores, and being open to searching via CFC make FTI very handy for the public. The introduction of FTI enables foundations to know about their transparency ranking nationwide and thus improve the quality of their information effectively. Furthermore, FTI is totally open to the public, which can be used as a basis for donation, thus pushing for greater transparency and stronger credibility.
"The evaluation system is open to all. It produces a score based on solid indicators and it's open to everyone's supervision. FTI is not just to rank. It aims to promote transparency and information disclosure. It is only meaningful when everyone takes action," Cheng Gang, the-then CFC President said. "FTI is to push forward philanthropy with scientific management," Lu Dezhi, Executive Director of Huamin Charity said. The ranking is updated every month. The higher the ranking is, the greater the transparency is. "We update FTI regularly because transparency is a process, not a still result," Cheng Gang explained.
"FTI is unique to China's foundations. It's an important innovation. It reflects the basic structure, the situation of donation and giving and the development of programs of each foundation. All foundations, old or new, big or small, are measured by the same index. It's fair for all, open to all," Xu Yongguang said.
FTI has been put into use for 5 years. To ensure that it remains scientific and objective, CFC held discussion with Tsinghua University and representatives from foundations to make necessary adjustment each year, the process and result of which is released to the public. Right because of the importance attached to the index, FTI has become a significant reference in discussions of foundation development.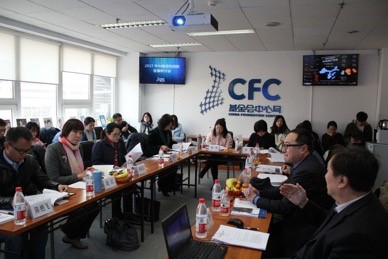 (CFC and the Anti-Corruption and Governance Research Center of Tsinghua University held the "2017 FTI Development Workshop" in November, 2017.)
Performance of transparency: from disaster relief to the tracking of giving
In the spring of 2013, Ya'an City in south Wenchuan, Sichuan Province was hit by a magnitude 7.0 earthquake. The whole nation was concerned. Many foundations responded quickly right after the earthquake by raising materials for disaster relief. 10 hours after the disaster, CFC in Beijing also took quick action by putting online an ad-hoc earthquake information platform to disclose real-time relief information. They kept in touch with the foundations participating in the relief work to ensure timely updating of the materials and assistance information in the stricken area.
Real-time disclosure of relief information is to avoid waste and inefficient resource allocation as seen in relief work in the past. Beichuan, the worst-stricken area in Wenchuan Earthquake in 2008, had a pre-quake population of about 160,000, but quilts for 220,000 beds were donated after the disaster. The warehouse of the Red Cross Society in Sichuan Province even failed to handle such a huge volume that extra materials had to be left in airports and railway stations.
Every day in the first week of disaster relief, CFC sent a report at 4 in the morning detailing relief information of the day before to the foundations joining the relief, including assistance time, numbers and names of foundations known to have joined relief, total giving, types and quantity of materials. "The work is very necessary. With the information we get to know that many sent purified water to the disaster-stricken area, but not infant formula or sanitary products for women. This helps us to make adjustment and reallocate resources in a timely manner," Wang Xingzui, Executive Vice-President of China Foundation for Poverty Alleviation said.
On April 23, or 72 hours after the quake, CFC launched the "China Foundation Self-Discipline Alliance for 420 Disaster Relief Operation" with many foundations. Members of the Alliance promised to release information on donation-receiving, giving and the use of donations, be subject to the supervision of donors, the public and government and bear all legal responsibilities. On the 7th day after the quake, CFC provided a clearer and more systematic summary report detailing the materials given by all foundations. More categories and quantities of materials were found in this report than in the daily reports released in the first 3 days. Materials worth millions of dollars that were in shortage in earlier reports, like infant formula, nutrition for kids, sanitary products for women were given later as seen in the report.
After the relief work of Ya'an came to an end in 2013, attention to relief giving waned. But CFC silently began to track the use of giving in the next 3 years. "Public attention to disaster relief will fade. But we hope to continue to track the use of giving to enhance the sense of responsibility and philanthropic self-discipline," Tao Ze said. According to him, such tracking was also to draw the lesson of the 2008 earthquake.
Five years ago Wenchuan earthquake prompted huge donations, the use of which was openly questioned by Professor Deng Guosheng. Narada Insights also reported at that time: "Public information released by Sichuan Charity Federation shows that the giving was mainly used to 'settle the victims', 'procure relief materials for emergency'. But we have no clue over how victims were settled, what materials were procured and how much was spent." From 2014 to 2016, CFC cooperated with professor Deng to track the use of giving for Ya'an earthquake and released a tracking report each year. On the very day of the 3rd anniversary of the quake, the third report came out. It shows that 357 foundations nationwide participated in the emergency relief and post-disaster rebuilding with a total giving of 1.906 billion Yuan. The total spending in the 3 years was 1.589 billion Yuan, accounting for 83% of the total giving. Among this spending, 1.431 billion Yuan, or 90% had details on how it was used, the rest 158 million Yuan was yet to be explained. 86% of the foundations disclosed information on the use of donations; 64% disclosed the process of using and only 9% disclosed the effect brought by their programs.
Professor Deng said, "Data indicate that from Wenchuan earthquake to Ya'an earthquake, foundation self-discipline and information disclosure had a marked improvement. CFC as a third-party disclosure platform played a key role." Wang Yijun of China Youth Daily also believed that "the three-year tracking of giving educates the public. Through years of data tracking and analysis, it tells the public that donations were not immediately used to procure materials, but used in a planned and step-by-step manner."
Influence of transparency
After years' effort by CFC, foundation transparency in China has improved significantly and is having positive influence on the society.
Such influence is first seen in foundation self-discipline.
In the 2013 Ya'an earthquake, CFC worked with many foundations to disclose real-time information and pool resources together. This not only improves resource and relief efficiency, ensures donors' right to know, but also leads philanthropic self-discipline by example. On the third day of the quake, "China Foundation Self-Discipline Alliance for 420 Disaster Relief Operation" was established. According to He Daofeng, the-then Executive Director of CFC and Executive President of China Foundation for Poverty Alleviation, though the alliance was quite preliminary, it signaled a new stage of foundation self-discipline. He said, "Building self-discipline is the primary thing in developing China's nonprofits. Exploration by third-parties as represented by CFC, such as information disclosure and FTI, helps nonprofits to enhance themselves. This is an inseparable part of self-discipline."
Second, transparency promotes foundation organization capacity.
Just as He Daofeng said, "Self-discipline is by no means the end. The essence is to improve the organization capacity of philanthropy." At the end of 2017, CFC led the founding of "China Environmental Global Alliance (CEGA)". Its founding members include 10 most influential Chinese environmental foundations. The purpose is to lead environmental funding, forge an influential platform of communication for environmental foundations, promote cooperation between environmental foundations and bring out the maximal benefit of environmental giving. In the future, this new platform will lead in forms of releasing environmental nonprofits white paper, building the standard of program categorization and influence evaluation system, etc.
Third, transparency brings healthy influence to nonprofits as a whole.
Four months after Ya'an earthquake, CFC disclosed the situation of fund-raising by public foundations. It shows that among the 89 public foundations, 17 had full FTI score. These 17 foundations also happened to have the most donation, totaling 1.002 billion Yuan, accounting for 76% of the total fund raised by public foundations. As a result, many scholars, experts and professionals suggest on many occasions, "We should look at FTI, the transparency ranking of foundations before making donations." FTI has already begun to influence the flow of donation.
Fourth, greater transparency influences policy-making.
Via data collection and analysis, CFC can accurately identify foundations capable of providing support during special periods, pool resources together and leverage policy support. In 2011, study showed that China still had 20 million children under nutrition, which undermined their growth and learning. CFC identified 6 foundations for child support and nutrition using back-stage data analysis and raised 20 million Yuan. Later this event was reported by the media, producing greater influence throughout the society. By the end of 2011, the State Council approved a food subsidy program with an appropriation of 16 billion Yuan each year, which effectively solves the issue of having meals at school for poor children.
In 2016, the Charity Law of the People's Republic of China was adopted after 10 years of drafting, marking a milestone in China's philanthropic legislation. It has clear provision on information disclosure: it demands genuine, complete information and timely disclosure and regular disclosure of program development after fund-raising. Such provision is consistent with what CFC has been working for.
In September 2017, the Ministry of Civil Affairs and CFC signed the Agreement on the Operation of Charity in China Information Platform. This marks the recognition of CFC's effort and achievement by the government. CFC starts to become the official information service provider for the government.
Future challenges
In the past few years, CFC "discloses information while the public receive information". In the eyes of Tao Ze, this is not in line with the interconnection and interaction feature of the Internet era. "What we've done is far more than enough. The release of information still stays at the 'yellow page' stage." This sounds like a technical issue, but for China's rapidly growing nonprofits, it means more than that. As He Daofeng said when being interviewed by China Philanthropist, "Most nonprofits interact with recipients in a condescending manner, instead of with equal status and out of philanthropic concern. That's why nonprofits do not have strong incentives, strong sense of mission and effective resource mobilization."
"We need to continue to break such inequality. For CFC, this means the use of information technology and better product design to include more public and enhance interaction and communication on the basis of greater transparency," Tao Ze said.
When talking about the changes brought by Internet on nonprofits, Wang Lin, President and Secretary-General of China Charities Aid Foundation for Children said that the Internet broke media monopoly, enabling donors and recipients to produce and spread information and that the public engaged even more in philanthropy, thus raising greater demand on information disclosure.
"We hope not only to improve public engagement in philanthropy via technology and product design, but promote information production by the public via in-depth data digging and utilization in order to have multiparty supervision, enrich China's philanthropic ecosystem and facilitate social transformation and development," Tao Ze says. His face is determined: "This will not be done overnight, but it is the call of our times."