Since the founding of People's Architecture Office (PAO) in 2010, the firm has attempted to create social impact through its design. PAO has often taken a tactical urbanist approach to architecture, effecting change by implementing low-cost, socially conscious design solutions that ameliorate found conditions. Based in China, the firm has witnessed firsthand the extreme demands of breakneck urban development and demolition. The firm's office is located in an historic courtyard house in the center of Beijing and functions as a laboratory for observation, testing, and building.
Traditional strategic urbanism, or top-down plans that engage with complex urban systems, is opposed to tactical urbanism, which consists of responsive, concrete actions employed by people on the ground. The concept of tactical urbanism, while relatively recent in the West, has a longstanding parallel with Chinese informal urbanism—in recent decades, many Chinese residential areas have been constructed through individual initiative over a sustained time period. In this environment, the neighborhood easily assumes new design into its midst, revitalizing the neighborhood through concrete contributions (composting toilets, new social spaces, etc.) as well as a change in atmosphere. Informal construction signifies that there is a need present that is not being addressed by the state. Although these informal solutions are more visible in developing countries, these needs exist all over the world, often hiding in plain sight. By investigating our cities, architects and urbanists are better able to understand the people's needs and discover autochthonous ways of addressing residents' issues. In contemporary architectural discourse, tactical urbanism can refer to a number of design measures meant to implement long-lasting social change. These projects are often put into action through a collaboration between designers and larger organizational bodies—local government, NGOs, socially- minded companies—and run the gamut from hours-long events to permanent interventions. Projects that fit the label "tactical urbanism" also tend to be phased: similar projects, or projects that share the same goal, tend to be deployed at determined intervals in order to bring consistent attention and interest to a neighborhood or area.
An example of PAO's tactical work is the People's Canopy, a two-story high retractable structure supported by multiple sets of tricycles. These tricycles can be ridden by up to 10 citizens, paraded throughout the city, and expanded over the length of entire streets, linking previously-disconnected urban spaces. The design of the People's Canopy references expandable street food canopies popular in Southern China. The entire structure is designed to collapse to fit the width of a double-decker bus so that it can be pedaled from one location to another. When parked, a canopy can open like an accordion to 12 meters in length at a span of 10 meters to cover entire streets. The project was first deployed in the city of Preston, U.K, in 2015, and was sponsored by an arts initiative with the aim of connecting people and rejuvenating the declining urban center. The People's Canopy was later installed in Yantai, China, Leuven, Belgium, and the Hong Kong/Shenzhen area as part of the Bi-City Biennale of Urbanism and Architecture. The canopies were acquired by both Preston and Leuven for future public use, and continue to be used both separately in different locations and collectively for large events. In many of these cities, the People's Canopy has become a long-term "extension" of public institutions, capable of being sent out into the community for workshops and events. The mobile, informal nature of the structure allows for the unique opportunity to test out program in the community and gauge the response. For many institutions, this allows for engagement in a new space without the expense or commitment of constructing permanent buildings.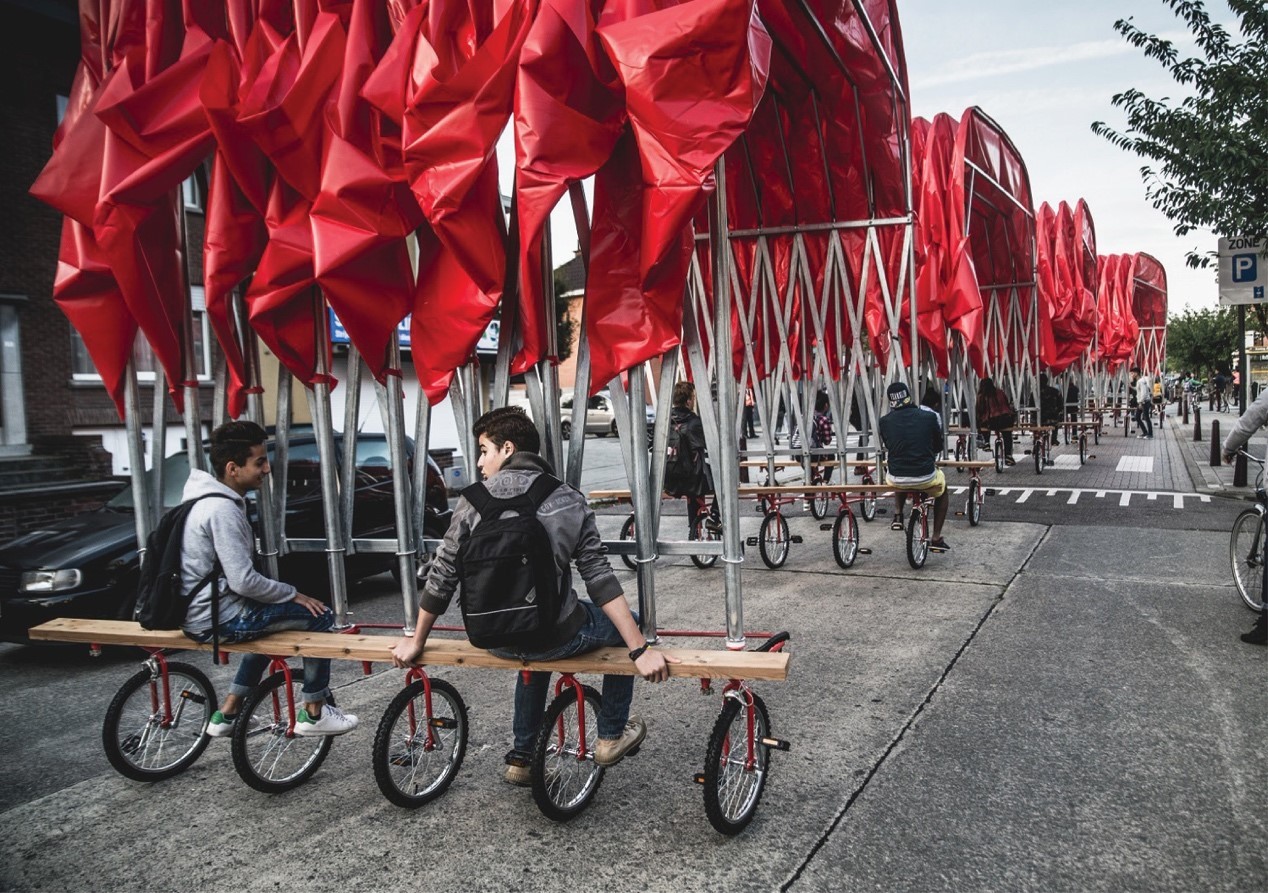 (The movable People's Canopy. Leuven, Belgium, 2016)
In terms of tactical urbanism, The People's Canopy is a placemaking endeavor, acting both within its environment and upon its environment. Even though the Canopy is strictly temporary, it calls attention to preexisting stagnant urban forms (parking lots, alleyways, etc.) and turns them into dynamic and attractive spaces. By fitting various canopies together, one can also bring attention to overlooked corridors and connections, stitching disparate spaces together in a new arrangement. Overall, this strategy is accessible to the general public, and can involve a diverse range of people throughout its setup, installation, and removal.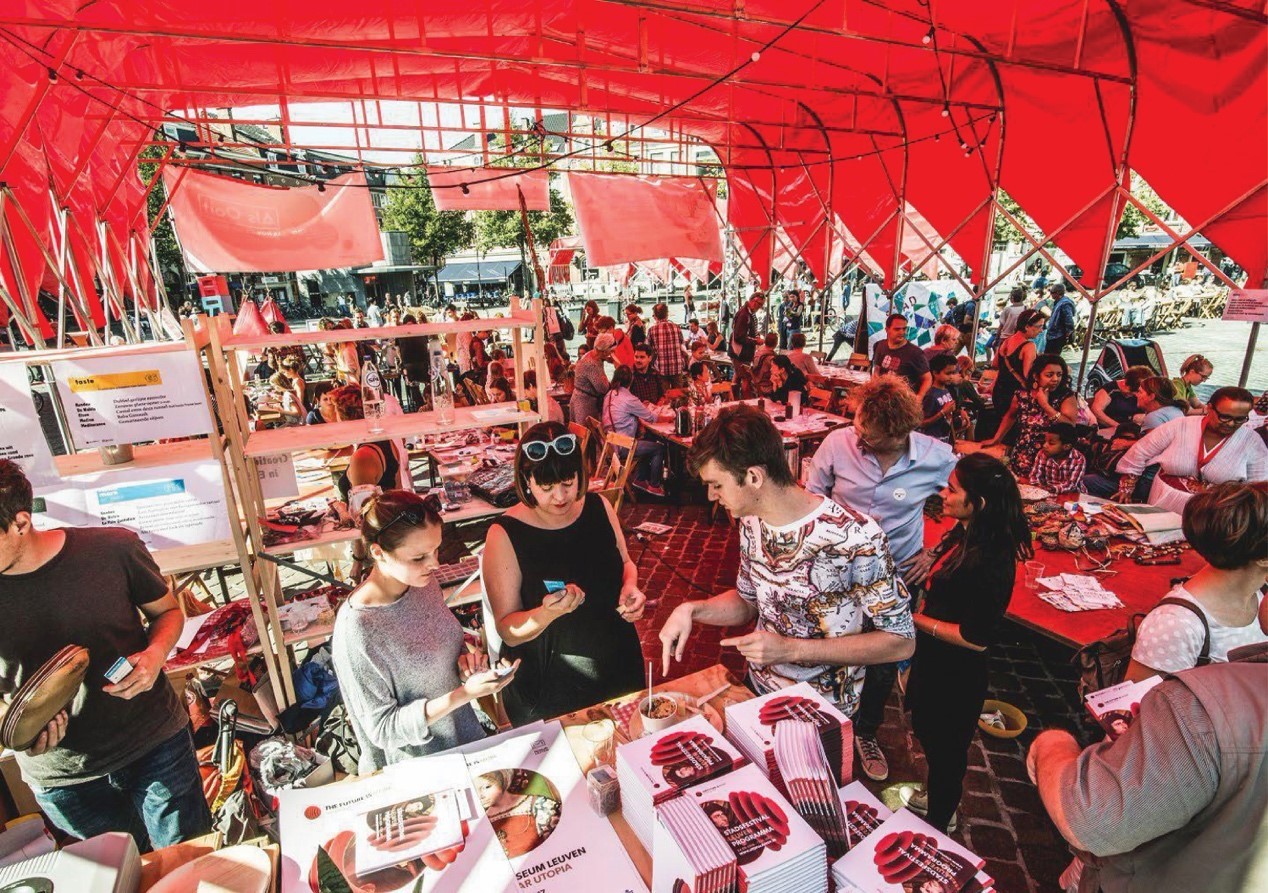 Note: The connected People's Canopy is extended to allow the public to join in cultural activities. Leuven, Belgium, 2016
Many of the housing projects that PAO creates—such as their Plugin House developed and implemented in Beijing—allow clients to live in familiar, centrally- located areas in units that are both energy efficient and offer a high standard of living. Many of the hutong communities are conveniently situated at the center of
Beijing, but conditions there have worsened over the past decades. Today, many of them are crowded with people, outmoded and often damaged—these interior areas are pockmarked by broken windows, uneven paving, etc. and do not receive the regular governmental care that the exterior alleyways receive. Even though these areas contain much of the nation's precious architectural heritage, the central government has often dealt with the worsening condition of this area by offering a financial incentive for residents to move to city outskirts and then razing the entire area. The residents, despite most having lived there for decades, are not the landowners—that responsibility falls on the state—and have little control over the fate of their homes. Over time, many of the younger, working generations have moved out, raising the median age of hutong residents. This prior state led PAO to begin exploring new options to both salvage cultural heritage while raising residents' quality of life. The Plugin House, which was developed using their proprietary prefabricated Plugin Panels, can either fit inside of an older home or form an entirely new structure alongside an older home, positing a non-invasive and high quality solution for hutong living. The Plugin House was first developed as a "house in house" renovation, in which the dilapidated interior of a historical structure in Beijing was completely evacuated, leaving a shell in which the house could be installed. In the process, this Courtyard Plugin House allowed the residence to meet modern standards of living, raise its energy efficiency, and preserve the social life of the vanishing hutong communities.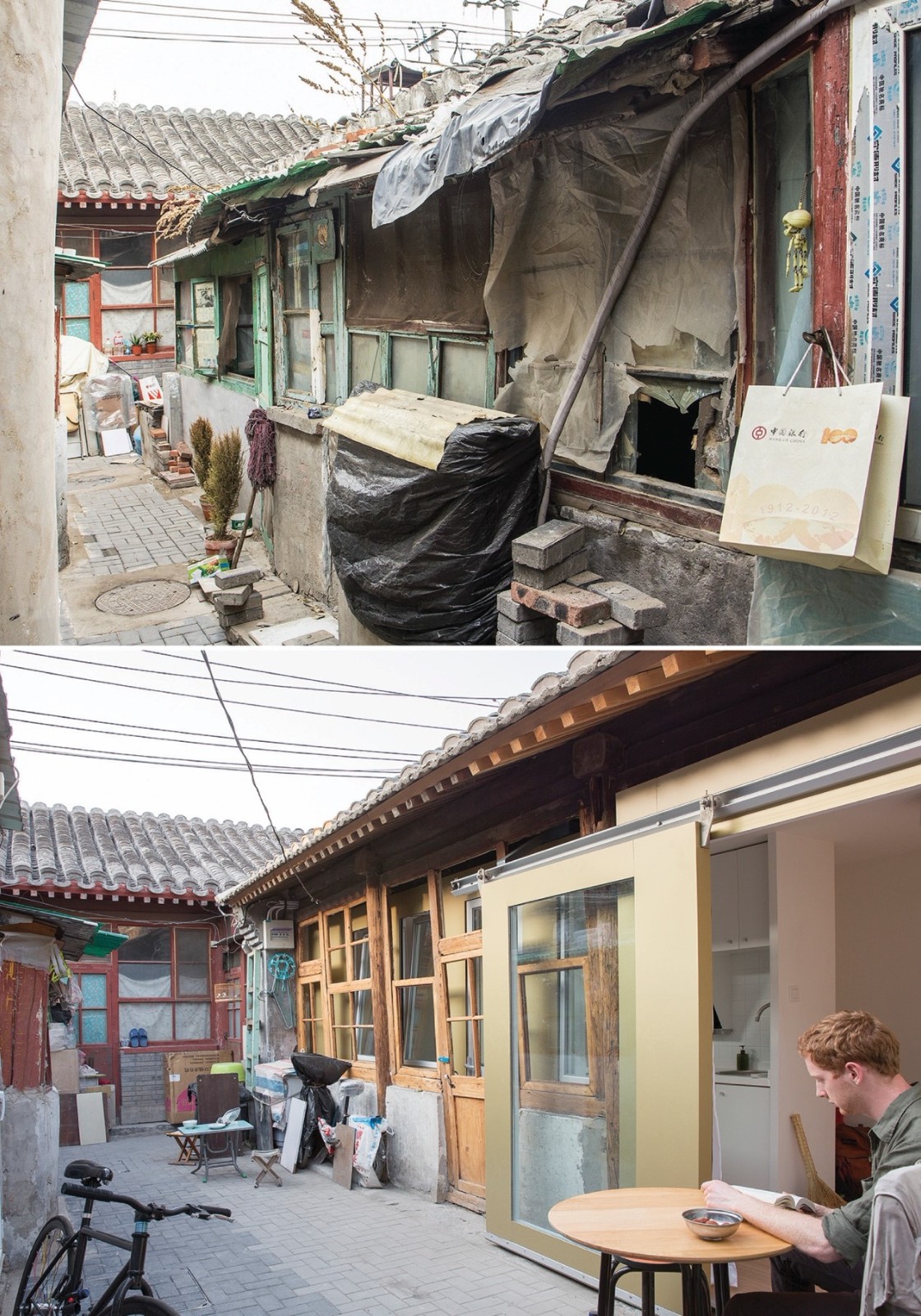 Note: In the alley, a new "box" is placed into the main body of the old house --the inner box courtyard. The picture shows a comparison of the housing conditions before and after the placement of the inner box courtyard. Beijing, 2015
PAO, which began in tandem with an industrial design wing, is accustomed to methods of mass production; this gave them the skills to develop the prefabricated panel, rendering the final product very affordable. These prefabricated modules incorporate insulation and interior and exterior finishes into one molded part. Components attach to each other with an integrated lock, making construction a task simple enough to be completed by a couple of unskilled people and one tool in one day. Wiring and plumbing are integrated into the molded composite panels.
The Plugin House can be built within an existing structure, in an extant neighborhood as a freestanding unit, or independently as an accessory dwelling unit (ADU). If built in a well-established area, the affordability of the Plugin House (thirty times less than the cost of buying a typical apartment) allows residents to live in centrally-located areas where modern comforts are usually out of reach. If built independently in an unoccupied lot, the Plugin House can be easily customized to the client's needs in terms of space and function. An off- the-grid composting toilet system integrated into the Plugin House makes them independent and adaptable to any circumstance, urban or rural. The Plugin House has thus become a new vernacular form of architecture that emerges from the needs of the clients, their neighbors, and their local condition. When the Plugin House was first introduced into the courtyard houses of the Dashilar neighborhood in Beijing, it formed part of a larger initiative that sought to revitalize a fading community. Through tactical urbanism—bringing Plugin homes, architecture firms, an international design festival (Beijing Design Week), restaurants, and more to the area—Dashilar has become a more vibrant place and has managed to slow the ebb of its native culture.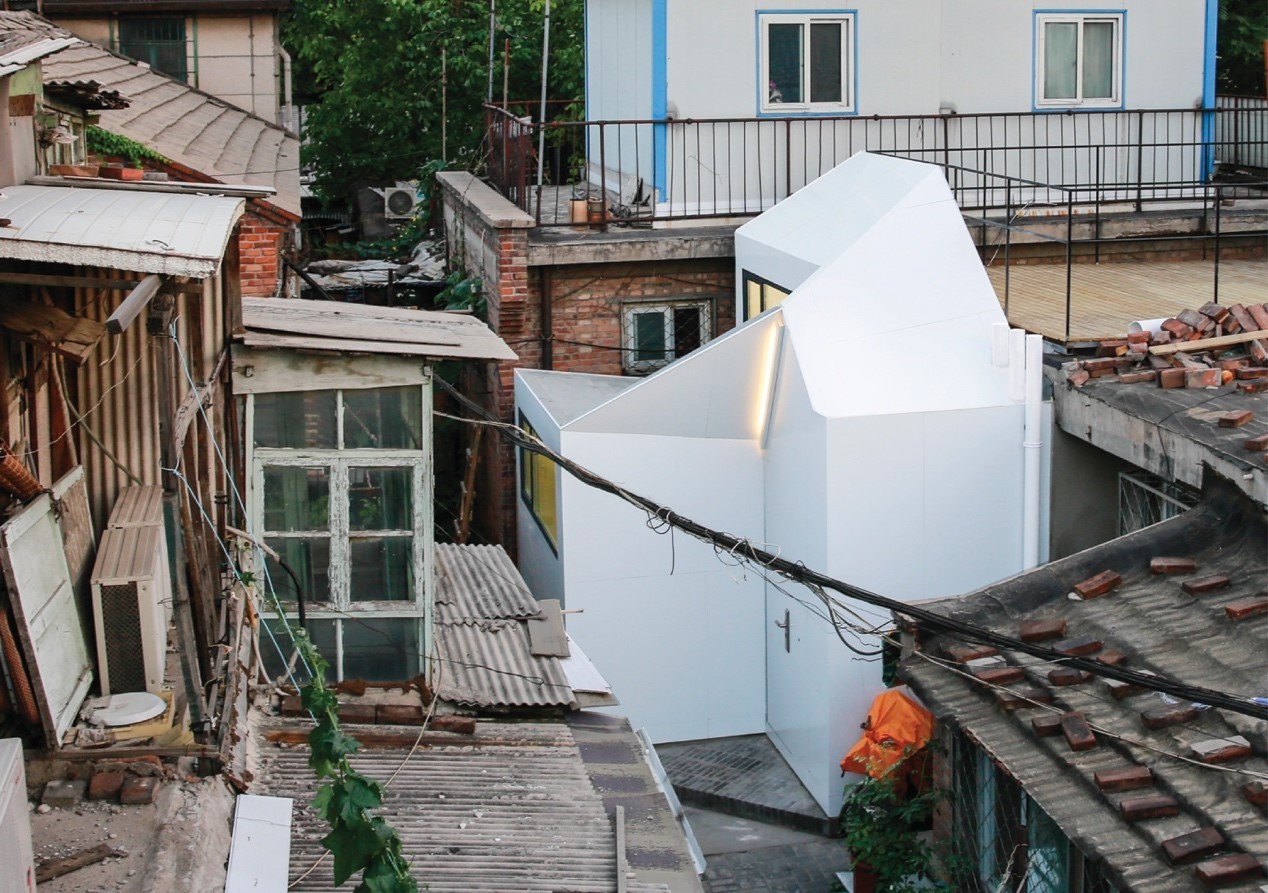 Note: The average cost of the new building in this alley is less than 4000 RMB per square meter, which takes only one day to build. Beijing, 2016
In the coming years, PAO will take an entrepreneurial approach to architecture, while strengthening their commitment to the diverse group of individuals who stand to benefit from their work. PAO aims to prove that private industry can be utilized in order to solve problems usually addressed through governmental means. Architects are often faced with a dilemma in their careers: much of the industry relies on the funds of private corporations and individuals, so a large percentage of contemporary architecture is inaccessible to the common man. Architecture firms traditionally operate as consultants, rather than entrepreneurs: their business ventures are low risk, require little investment, and they work on many projects at once. PAO will address this problem by having a portion of the practice run as a lab. There is more risk in this setup: it's longer-term and will not recoup its investment until it hits the market. Once it does, PAO will remain a major shareholder in the business while transferring management to another team. In this process, PAO is integrating their creative outlook and design knowledge into an entrepreneurial set-up.
The first of these planned ventures, launching in late 2017, would like to produce high quality architecture at affordable rates using the Plugin House system. Today, most architecture is built onsite, with methods and tools that have evolved comparatively little in the years since the Industrial Revolution. When products are mass produced, the cost of producing an individual item is severely lessened. PAO believes that by applying the principles of mass production, they can transform the housing industry from its current situation into a more equitable and sufficient state. The evidence provided by past successful Plugin House prototypes has proven the ease of installation and the livability of the units: many Plugin Houses have already been built in China, with more planned in the United States and Canada.
Their advantageous location in China allows the firm to negotiate directly with some of the world's largest suppliers of synthetic architectural materials. Many of these companies have a near-limitless ability to produce the material developed by PAO at cut- rate prices. In tandem with the fact that the Plugin Houses only need one tool to build, these houses rival IKEA products in the ease of their setup and installation. In the future, a standardized Plugin House system has the potential to be delivered directly to consumers to assemble themselves on site.
Last year, PAO became the first architecture practice in Asia certified as a B- Corporation, or a for-profit entity measurably working for social benefit. PAO is in the process of entirely restructuring their firm, evolving from the typical structure of a boutique architecture firm and incorporating startup techniques in order to further their business. PAO began to seek partners and alternative resources that could invest in their long-term development, including the creation of a speculative research department in charge of spearheading new architectural ventures. Leping Social Foundation (LSF), a non-profit organization based in China, has invested financial and institutional support in the firm. So far, LSF has given PAO information critical to the success of their venture: many common business practices have no corollary in the design field, and goalposts like "social impact," which in architecture is an all-encompassing term for a (generally positive) change in human interaction, is a useful and measurable entity in the business world. PAO has also partnered with the Boston Housing Innovation Lab and the Harvard Graduate School of Design (through the Loeb fellowship) in order to fund and demonstrate the Plugin House concept in Boston. Using prototyping, PAO hopes to affect regional ADU policy, offering up ADUs as a potential solution to the growing problem of housing affordability in the United States.
PAO's future goal is to continue to transform the socially-minded concepts that they test at the scale of tactical urbanism and multiply them with the capabilities of modern mass manufacturing. In the years to come, using their longstanding practice of prototyping and constant modification, they hope to remain in close contact with the communities benefitting from their architecture. By creating a company that deals purely with the continuing design and production of architecture like the Plugin House, PAO can assure a lasting tactical strategy that will continue to develop over the years. This unprecedented architectural business model has newfound capability to both modernize the way we build and to make a high quality of life immensely more accessible

Note (from left to right):
Zhe He [XL5] was born in Jinhua, Zhejiang Province. He is a national first-class registered architect and master of urban planning and design of Xi'an University of Architecture and Technology.
James Shen [XL5] was born in California, USA, Bachelor of Product Design and Master of Architecture in MIT, Loeb Visiting Scholar in Harvard University.
Feng Zang, [XL5] was born in Lanzhou, Gansu Province, a national first-class registered architect, master of architecture in Peking University.